At The End Of The Rainbow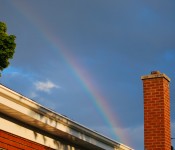 Have you found your pot of gold yet?
If you haven't, I suggest you don't give up.
I have come to understand that the only way to get what I want is to experience the rain.
Without the rain, there is no rainbow. Without the rainbow, there is no pot of gold.
Go out there, get wet and look for your pot of gold.
Who knows, you may just be someone else's rainbow!