What's the Magic Colour?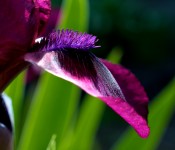 The original plan was to fill the perennial front garden with plants that flowered in purple.
Over the years, this intention has been carefully carried out throughout each extension of this bed.
This summer marks the third cycle of this perennial petal-patch. So far, this garden is revealing a botanical procession of blooms in tints of pinks, plums, violets, mauves and periwinkles.
One of my favourite bloom is the short purple bearded iris. I was lucky to acquire specimens from a neighbour to place in the purple terrace.
I dream in shades of purple.