No Apologies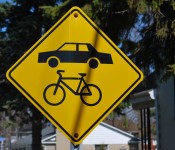 If you are like me, chances are you may also photograph street signs or at least know someone who does.
For me, street signs make a statement — they assert, they inform, they direct.
Street signs tell us what to do, when to do it, where we are and, at times, they even tell us where to go.
I know certain people who are always looking for a sign, a message that will tell them what to do, where to go, and perhaps even what to think.
For me signs are important — but only as guidance. I have my own voice. I create my own path.
Many people, especially, ignorant people, want to punish you for speaking the truth, for being correct, for being you. Never apologize for being correct, or for being years ahead of your time. If you're right and know it, speak your mind. Even if you are a minority of one, the truth is still the truth.

Mahatma Gandhi