Across The Street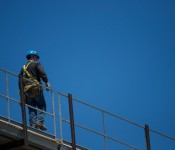 Living across the street is easy. I may not have everything I want, but I have everything I need.
To be able to say I have all I need is one of the greater gifts life has ever given me.
I recently experienced the passing of my neighbour across the street. He was a very kind elderly person whose decline was evident for a few months. It was the ending of his story, the ending of a life.
Prior to his death, I visited him at home. In fact I visited daily before his brief hospitalization.
Through this experience, I learned that life is gentle, cruel and fragile – but worth every breath.
"I feel like a baby" he said, when he saw me arrive. The very weak and sick man was wearing diapers.
"You are a good man" I said, as I gently touched his forehead. That was the last time I saw him. 
I have often heard people say that life is too short, but sometimes, life can also be too long. Personally, when my turn comes, I hope I leave this world before the diaper stage comes. A little bit of dignity is all I ask, a little bit of dignity.
We never know when the time will come, but for now, I will live my life the best I can.