Treasure The Small Gifts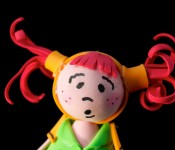 It never fails… Every time I visit family back home, someone gives me a gift.
And – more often than not – it's one of those odd gifts. But that's OK because — more often than not — these are the gifts I cherish the most.
During my last trip to Argentina, I had the chance to visit my sister and my brother. It was also one of those visits during which I received such a gift.
On a particular day while visiting my sister at her home, her grown son (my nephew) gave me one of the many dolls he had made for his young daughter's birthday celebration. I thought it was cute.
No, wait a minute. For a fleeting moment, I thought it was odd. There I was, a grown man, holding a doll — my own little doll — in my hands. But I looked at the doll again and I smiled. It was more than a doll. It was a small gift made with love, passion and creativity. I really did appreciate the gesture… and the doll.
After a few hours talking about life and reminiscing about the good old times, it was time for me to leave. We exchanged hugs — and I left… with my doll.
It may have been only a short bus ride to return to my brother's home where I was staying overnight, but it was a memorable bus ride. I was pulled out of a daydream by a little girl's voice who asked me: "what's your doll's name?"
My doll? Oh, yes — I had momentarily forgotten that I was holding the gift from my nephew. Sitting in the next seat, a little girl was smiling and waiting for me to respond. I answered: "it's Ambar."
Without missing a beat, she continued: "you are very lucky to have a nice doll like that. My doll's name is Molly."
At that moment, I did realize that I was lucky.
Children remind us to treasure the smallest of gifts, even in the most difficult of times.

Allen Klein