Your Dogma Is Off Leash!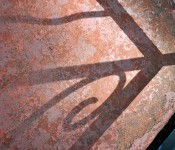 You already know that I love summers. Yes, each and every summer is special to me. I love the sunshine, the long days, the warm breeze.
This past summer was particularly good. Not only did the garden benefited from this past growing season, but it was also a productive introspective time for me.
As some background, let me share that it was easy while I was growing up to identify the thorn that was poking me. Such light wounds only require topical, or superficial treatment – no big deal really. But once you identify the offending thorn, you have to either coax the thorn-growing branch to bend the other way or you have to prune it. This is also easy. We all do this.
But often, a new branch grows and more thorns appear. It may take a few new branches to get you to look at the root cause of the issue. This summer was good to me because I connected the dots and found the root cause of my thorns. In my case, the root cause was dogma.
The irony is that nothing has really changed in my life. Dogma has never been able to infiltrate my life. I have always been scientifically minded and driven by evidence. In fact, I studied evidence-based medicine and put it to good use in my career. Science is totally awesome! It should not surprise you that dogma has never held a prominent spot in my life. It has always been something that was far off in the background, too distant to have any importance or bring any worth to my life.
Perhaps it is because I am slowly maturing and getting a bit wiser but this dogma seems to have made itself a little more visible lately. I must be paying more attention and trying to find the "root cause" of the many wars, fighting, and "controversial" topics we constantly see. The common thread I now see is the abuse of power and the violation of human rights…
… all in the name of dogma.
Because of this, I no longer feel neutral towards dogma. I deplore any and all violations of human rights.
Oh, if you believe in dogma, I have absolutely no problem with that. Just keep your dogma on its leash.