The Conductivity of Knitting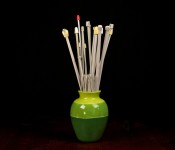 I love knitting… a lot.
Knitting is very conducive to thought. It is nice to knit a while, put down the needles, write a while, then take up the sock again.

Dorothy Day
In my case, after I write a while, I take up the hat again.
What hats, you ask? Well, these  → hats ←