My Old Country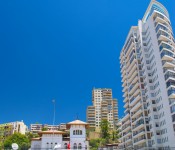 In the last few years, I have traveled to Chile several times. It's a beautiful place to visit especially if you like mountains and the Pacific Ocean like I do.
Oh…Lets not forget to mention that I was also born there. So, as you can imagine, I have a special affinity to this place.
Whenever I am in Chile, I get to see some of my relatives and friends. It's a real treat to visit my old country, to feel the latin vibe, to hear the Spanish language and to eat delicious food.
Even though I love every single visit to this wonderful place, I know there are many other wonderful places in the world to see and experience. I believe it's healthy to vary your traveling destinations and I sense that I am getting ready for another trip to a new place.
Until then…