Life Is Good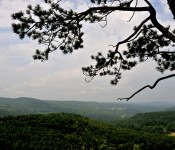 With perspective, I can qualify this period of my life.
I recall my earlier decades as a bit more tumultuous than now. My teen years are a big blur even though they were richly formative.
My twenties were all about trying on different hats, analyzing a few road maps, and completing several hikes and explorations in many areas of life. The landscape of this period contains mountains of science and medicine. I climbed a few of these peaks. I am proud of these expeditions even if I discovered I had vertigo.
Then, my thirties were all about running in the rat race and climbing the corporate ladder. I did very well. I even got up there, perched on the rung just before the last one. I was reminded how heights give me vertigo.
And now, in my forties, I am enjoying more time creating my own pathways in life's garden.
I can qualify this period of my life as good. Yes, I am in a good period of my life.