What do you mean GOTH?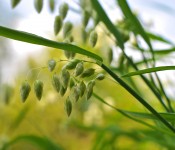 Oh no. Certainly not goth like that. No.
GOTH stands for "gardener on travel hold". Ok, I admit I just made this up. Please humor me.
If you are a fervent gardener, you will understand and possibly even share my reluctance to travel during the active period of our flora.
 It is such an intense, enthralling, stimulating period for a geeky gardener like me.
I hope my family and friends understand because I have a few overdue trips to make. I am feeling very guilty about this. Yes I am.
But — I just can't stop gardening…
… fervently.