Fiction of the Mind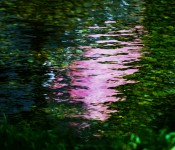 From an early age, I remember having a gift to dream up stories. These stories even got me in some sticky situations at home.
I suspect that people who lack imagination often have difficulty distinguishing between the telling of a story and the telling of a lie.
On the other hand, I think those who have great imagination realize that even the wildest dreams can come true with imagination.
Regardless of how you choose to express your imagination — be it through photography, art, writing — always allow yourself to feel the illusion.
Imagination must be encouraged.
Growing up I didn't have a lot of toys, and personal entertainment depended on individual ingenuity and imagination. Think up a story and go live it for an afternoon.

~Terry Brooks