Walls With Voices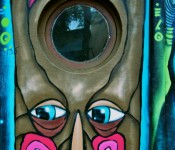 I didn't always have an appreciation for graffiti. In fact, it wasn't until photography made an impression in my life that I developed a sensitivity for street art.
Through my lens, graffiti speaks to me. Yes it does. Walls with voices come with art.
Everybody needs to let go and be who they truly are. We can either hit the wall, scratch the wall, or paint the wall.
Graffiti is not about clean lines, pretty colors and beautiful blends. Graffiti is my life's turbulence exploded on a wall.

~Mint&Serf