The Green Bicycle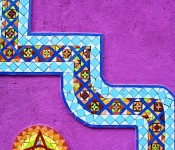 Aside from watering the garden, cycling is another vehicle to get to meditation for me – it just is.
Riding a bike not only takes me places, but it also relaxes me to a point where I can experience freedom of the mind.
One of the best bike riding experiences I have had was when I was in Santiago (Chile) last year.
I rented a bike and I went to discover the city one pedal at a time.