Looking for Words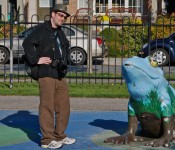 A friend of mine, who is a writer, told me that his creativity was blocked and did not know how to awaken it.
He had no more words…
I offered to lend him some of my words, but he was looking for his own voice and my words were no good to him.
You see, we could all have the same words, but if we don't have the right voice to deliver the message, it all gets mixed up.
Use your own word…