A View of the Andes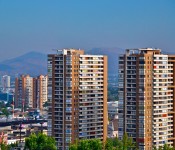 Having travelled to Santiago de Chile several times, I can truly say it is a wonderful city.
Nestled in the heart of the South American Andes, Santiago offers impressive landscapes.
In fact, it's not every metropolis that offers cityscapes peering through mountainous landscapes.
It really is a wonderful city.