Part of Nature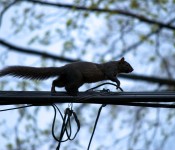 Many of us forget that we are part of nature.
I guess this happens easily when we live in our cities in which little of nature remains.
Humanity has spread significantly on this planet and we are impacting nature in important ways, not always in a positive manner.
But we come from nature. Humans evolved within and from nature. We require nature to survive.
I hope we don't ruin our planet and nature before it's too late.