Recurring Dreams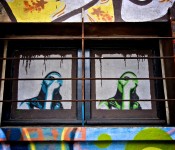 I remember having this recurring dream long time ago. In fact, I was no more than three years old when I first had this dream.
It made such an impact on me that I still remember this dream.
It was a recurring dream in which bald-headed beings were trying to come through the window. They were coming for me; somehow, I was sure it was me they were after.
They never did get me.