Looking Out the Window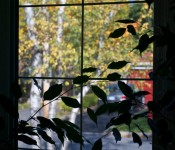 My dogs are always looking out the window. They spend so much time looking out the window that I wonder if they wish they were somewhere else.
But if I judge matters by the way they wag their tails all the time, I have to say that they are very happy.
What I notice is that my dogs seem to wait for people to past by and sometime they bark at them as if they are saying hello. I find it hilarious and they find it stimulating.
I used to look out the window a lot as well. But there is one thing I never did; I never barked at the people passing by.