Off to the Circus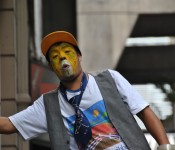 Have you ever thought of joining the circus?
When the circus was in town, I was one of the first in line to buy my ticket.
I was fascinated by all the theatrics associated with the circus.
The trapeze performers captivated me with their ability to fly. The clowns transported me to imaginary worlds with their antics and miming.
I even thought about joining the circus when I grew up and I knew exactly what I wanted to be.
I didn't want to be an acrobat or a clown. I wanted to be the ringmaster, the one who welcomes you to the show.