Do You Mine?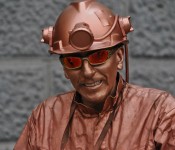 Every time something tragic happened, my mother would say "no hay mal que por bien no venga."
An equivalent English saying is "every cloud has a silver lining."
I never understood what she meant by this. But somehow I understood that it was meant as a sign of hope and acceptance.
Through the course of life we encounter obstacles as well as opportunities. Just remember that everything happens for a reason.