Madame Paradis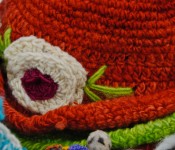 She always wore a beautiful hat.
Always.
Her look was carefully and tastefully put together and it, without exception, included a hat. She wore hats so well. You could tell that she put lots of thought in selecting her hats – she looked good in them.
Indeed, it was Madame Paradis that made me first notice hats.
And not long after that, I realized I really liked hats too.