Labyrinth of life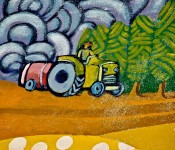 During my recent visit to Centenario, Argentina, I came across this beautiful mural honoring farmers from all over the world.
The images are a representation of the seasons and how the cycle never ends.
There are no beginnings and there are no ends.
The mural is also a labyrinth of images and emotions of life.