Doodle 59 of 95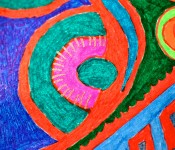 Sketchbook Project – Page 59 – "Wisdom Gatherer"
(gel ink, metallic gel ink)
 The saddest aspect of life right now is that science gathers knowledge faster than society gathers wisdom.

~Isaac Asimov
Let's pretent that my doodle is of a machine that gathers wisdom… because it appears that we need such a machine.
 [The sketchbook project is explained in this post.]
Stéfan is a medical communication consultant, a writer, a photographer, and a doodler. In addition to contributing posts, Stéfan is also the editor of CASLworks.
Stéfan