Doodle 58 of 95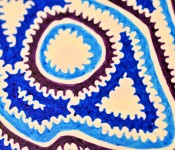 Sketchbook Project – Page 58 – "Cleverness"
(gel ink)
I have always admired cleverness and I have always wanted to be more clever.
I am so clever that sometimes I don't understand a single word of what I am saying.

~Oscar Wilde
[The sketchbook project is explained in this post.]
Stéfan is a writer, doctor, medical communication consultant, gardener, photographer and a doodler. In addition to contributing posts, Stéfan is also a co-creator and editor of CASLworks.
Stéfan