Ornaments and Jewels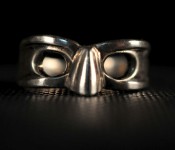 Ornaments, decorations, embellishments – they can be fine.
Jewelry in shiny metals and precious stones – they can be stylish.
Adornments in matching sizes and complimentary colours – they can be tasteful.
But as is the case most of the time, a little is better than a lot.
Too much will not be fine. A lot will kill the style. And more will make it tasteless.
But a little will be fine. A touch will be stylish. And less will be tasteful.
Don't over do it.