A Gentle Touch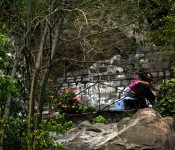 I can't get over the amount of public displays of affection I see between couples when I visit Chile.
Whether it's in a restaurant or a park bench, there are always people touching each other in a sensuous way.
At first, I wanted to yell out "get a room" but now I understand and very much enjoy seeing people professing intimacy in a sincere and honest way.
I even got to experience a gentle touch while eating at a restaurant. When the waitress came to ask if everything was ok with the food, she actually touched my shoulder in a very tender way and she did this more than once.
There is no question that Chileans are a very happy society and for someone now living in a society where people's space is sacred, exposure to public displays of affection is great.