Turn the Page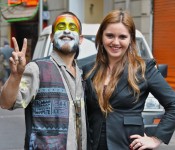 New beginnings are always welcome, but we can't have new beginnings if something doesn't end.
What I am saying is that change is unrelenting in everyone's life and we must be able to adapt to the constant renovation of life.
There are no answers explaining why life is perpetually changing, no answers as to why a relationship ends; there are often just no answers.
I often hear people say that it is a good idea not to close all doors behind you, but in order to move on we must close those doors and be open for new opportunities.
Man cannot discover new oceans unless he has the courage to lose sight of the shore. ~André Gide