Doodle 47 of 95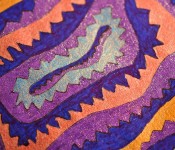 Sketchbook Project – Page 47 – "Meaning of Life"
(gel ink, metallic gel ink)
What are you looking for?
I don't believe people are looking for the meaning of life as much as they are looking for the experience of being alive. ~Joseph Campbell
[The sketchbook project is explained in this post.]
Stéfan is a medical communication consultant, a writer, a photographer, and a doodler. In addition to contributing posts, Stéfan is also the editor of CASLworks.
Stéfan