Doodle 38 of 95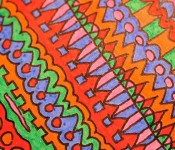 Sketchbook Project – Page 38 – "Magic Carpet"
(gel ink)
Do you love books?
A well-composed book is a magic carpet on which we are wafted to a world that we cannot enter in any other way. ~Caroline Gordon
[The sketchbook project is explained in this post.]
Stéfan is a medical communication consultant, a writer, a photographer, and a doodler. In addition to contributing posts, Stéfan is also the editor of CASLworks.
Stéfan