Social Stigma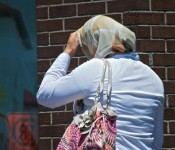 During my recent trip to Chile, I had the pleasure of listening to an 80-year-old share her story with me while travelling for three hours in a bus.
I was captivated by her recounting how she had been married to a man who would beat her when he had a bit too much to drink, but who was otherwise a wonderful husband. She quickly followed this statement by saying that the violent outbreaks didn't last for very long. "He would look, look, and look for me, but after a while, when he could not find me, he would fall asleep."
She winked at me as she leaned in and whispered that she would hide inside one of many wine barrels they had in their backyard. She had managed to conceal a pillow, a blanket and some food for those difficult times. "I never told anyone," she said: "I didn't want my neighbors to know. Back then, you would keep it to yourself."
On his deathbed, holding his hand, she said "I forgive you; I forgive you."
He looked at her and said nothing.