The End of Silence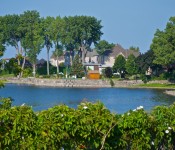 The other day I had a dream. I lived on an island so beautiful and peaceful that I could hear the birds sing.
The amazing green foliage decorating the island combined with a blue lake and open sky made it the perfect place to live. It was magical.
As I prepared to fly and explore life around me, I woke up.
It was the end of silence.