Beware of the Dog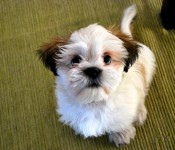 At a very young age I discovered I was afraid of dogs.
Every time I saw a dog coming my way, I would cross the street. If the situation required a more extreme measure, I would turn back and walk away.
It is an indescribable and uncomfortable feeling to be afraid of something or someone. I had a big fear of dogs and I decided to confront them.
I adopted a dog. It was a Doberman-Labrador mix. My new best friend and I would go everywhere together; in fact I loved my dog so much that I also adopted a second dog, a Shih Tzu. This time I had nothing to prove.
A few days ago, I went to the corner store and the unexpected happened: there was a Bulldog in the store. I didn't have a chance to leave the store. This friendly Bulldog starting sniffing me all over and I could not move. I was frozen in fear.
Even though I am the proud owner of my second pair of dogs, it is still not enough for my brain to get the signal that I like all dogs, not just my own.