Purple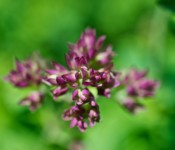 I have always wanted to paint the interior of my house purple.
What stops me from doing so is the fact that not everybody is a fan of purple.
The creative person within me blossoms with deep inspiration when I surround myself in purple.
The creativity of purple can also be seen in people's personalities.
Generally, I have found that most creative minds incorporate some form of purple in their surroundings.
(click to enlarge)