Dancing Trees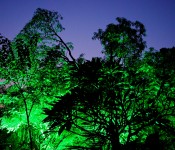 When I was at the Temple of the Jade Mountain in Vietnam, I witnessed a show put on by trees.
It was a beautiful evening. Walking slowly, I reached the garden beside the temple. Then, I stood still. I breathed in deeply and exhaled slowly.
In that moment of relaxation, I noticed the gentle sway of the trees. Like a group of well-trained dancers, the branches engaged in a choreographed sequence that sent a ripple from right to left to a soundtrack featuring a crescendo of ruffled leaves.
Then the ripple reversed completely and perfectly, like a video playing backwards. What a show.