That Bag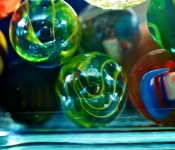 I couldn't resist. I had to buy that bag.
I was at the dollar store and I had stumbled upon bags of marbles. Most of these bags contained the common type of marble, what we used to call "cat's eyes". However, behind these bags of common marbles hid a bag full of novel types of marbles. They were so shiny, colourful and perfect.
I love marbles. I had to buy that bag.