I Love Hanoi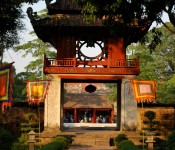 Before this particular business trip, I was dreading it for a few reasons.
This trip was a major one involving flying to the other side of the globe, crossing twelve timezones, and landing into a continent I had never visited yet. But what concerned me at the time was the fact that Hanoi, Vietnam, had been hit by severe flooding the week prior to my business trip. I was a bit anxious.
But all this worry was uncalled for. Nearly everything had returned to normal by the time I arrived.
This turned out to be a marvelous trip. The weather was great; the people were friendly; the city was beautiful. I may not have many photos from that trip, but the memories are precious.