Red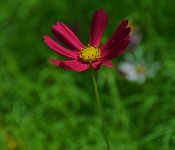 I am lucky to dream in colour and to remember my dreams in the morning, even if it is only for a few minutes.
I keep a pen and paper on my night table to quickly record my dreams before they dissipate and return to dream world.
Every time the colour red appears in my dreams, I have a creative day. I love that.
When someone learns to feel colours as I do, they learn that colours have emotions.