I'm a Keeper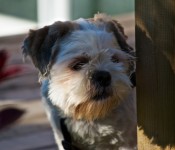 After three years of living with two dogs, I finally understand what training a pet is all about.
Training dogs takes patience and time. I'm always prepared to reward my pets for good behavior and to bond with them. I take them out for walks or to the dog park so they can socialize, have play time and get some exercise.
What I didn't realize at first is that the training goes both ways. When you train them, they also train you.
I'm also sure that my pets did a better job training me than the other way around. After all, I heard my dogs saying that I turned out to be a well trained human… I'm a keeper!