They're Colourful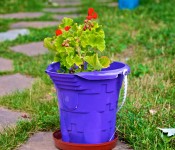 I was curious about our neighbours, the Rockwell family, so I took a short walk to go by their place.
They also live in a brick house that is not far from here.
What I like about them is that they seem to be down to earth. They come across as honest and modest.
There was one thing I noticed… they have a few colourful things on their property. They get full points for fun.
Yep – the Rockwell are good neighbours.