The Rockwell Family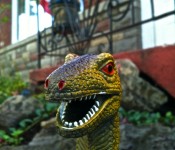 I am very fortunate to be able to say I have good neighbours.
In fact, I just met some of my neighbours last week. I met them in the garden.
Mr Rockwell was working in the garden and Mrs Rockwell nodded to me before heading off to the park with her children.
Then, Mr Rockwell and I exchanged a few friendly words. They have two boys – well behaved I might add.
We shook hands and I walked back to the house. I like my neighbours!
(click to enlarge)