Hold Your Tin Cans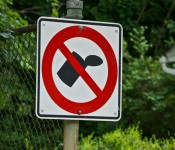 During today's outing around the neighborhood, I came across a few street signs that caught my attention.
These particular signs had a clear message. They were telling us what not to do.
I quickly looked around me and I was pleased to discover that they actually worked.
No tin cans; no golfers.