A Glass House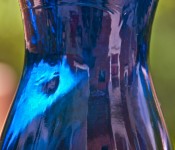 Living in a glass house must be peaceful and enlightening.
I am sure there are people out there that live in glass houses.
In fact I have met a couple of them in my life.
Fine! Perhaps it wasn't a glass house they lived in, but I didn't feel it my business to tell them otherwise.
Keeping one's ideology and respecting other's around us is paramount in order for the world to blossom.