Did You Say Subsume?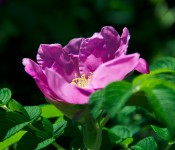 I have previously written about how some of my creative projects benefit from my meticulousness. My poetry writing is one of these pursuits.
I use my meticulousness to subsume rhythm and rhyme in my verses. Such structure in poetry turns my crank. (Sample A, Sample B)
Appreciating structured poetry may not be in line with the general contemporary questioning of the purpose and meaning of traditional forms of poetry. But for me, a structured poem is a highly aesthetic, thoughtful form of literary art.
It tickles me to hear the additional layer of complexity that structure provides a poem. Combined with good imagery, symbolism and writing, a structured poem is a delight.
Stéfan is a medical communication consultant, a writer, a photographer, and a doodler. In addition to contributing posts, Stéfan is also the editor of CASLworks.
Stéfan