Outstanding Richness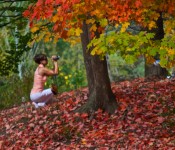 Nature surrounds us with its beauty in every single possible way.
The Edwards Gardens is the perfect place to go if the sound of nature is what you seek.
This beautiful botanical garden transforms itself from season to season, delighting us with its magical powers.
The outstanding richness of this natural scenery is inspiring. It's a poet's dream, an artist's paradise.