Location With a View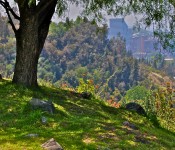 Finding the perfect place to sit is very important for some people.
As a young boy attending school, I always chose the third desk of the middle row, or, when not available, the second desk by the window.
When it comes to long flights, I would rather have an aisle seat.
Having the right place to sit is like buying real estate; location, location location.
However the only place where I truly find peace is when I sit under a tree. It is peaceful, refreshing and offers the perfect view.
(click to enlarge)