Which colour?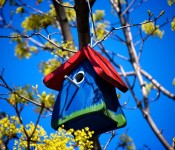 I have always painted my homes in neutral colours. But this time, I may not.
Having moved in a newly renovated house, I find myself surrounded by "builders white paint" all around. It's great because there are no pre-existing colours to influence my choice.
At this point in time, I am feeling more adventurous and am considering real colours – rich, delicious colours.
Yes; I may end up living in a house painted in bright colours. I'm getting excited about this idea.