Abstract In Motion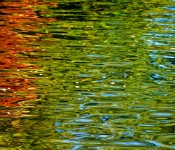 There is nothing more abstract than life itself.
Just when you think you know what life is all about, it changes right then and there.
It does it in a way that you don't even notice until you are right there in the midst of it.
That is exactly what happened here.
When light met water, these beautiful reflections of nature were created.
I quickly grabbed my camera and just as I clicked and clicked and clicked, it changed.
Abstract in motion, I called it.
(click to enlarge)