Why Me and Not You?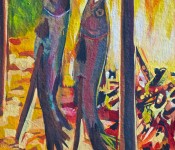 By Carlos.
Have you ever asked yourself why it is that you have to be you and not someone else?
All I know is that I could have been my brother or that famous actor on TV or perhaps that person that everyone likes.
But, it just happens that I have to be me.
Whoever decides or in this case assigns you to you had to have very good reasons to do so. I just hope they were justified to make me who I am today. I will try to make them proud.
Still, I want to know; why me?
(click to enlarge)