Fond Memories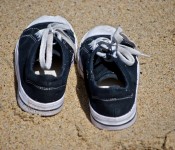 By Carlos.
We all loose things from time to time.
They could be taken from us or simply misplaced.
In this situation the running shoes you see were taken.
At least one of them was. It was taken by the sea.
But what was gained were fond memories of laughter and fun.
Sometimes when we loose, we actually gain.
(click to enlarge)