He Said – She Said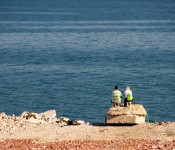 By Stéfan.
He said – she said.
It really doesn't matter.
She shred – he bled.
The words are only clatter.
He dread – she tread.
The feelings all a scatter.
She lead – he fled.
Listen to the patter.
(click to enlarge)
Stéfan is a medical communication consultant, a writer, a photographer, and a doodler. In addition to contributing posts, Stéfan is also the editor of CASLworks.
Stéfan